Connecting the Transmitter to an Audio Source
Plug the transmitter into an in-flight entertainment system (use the adapter if necessary) or any other audio source that has an AUX 3.5mm audio connector.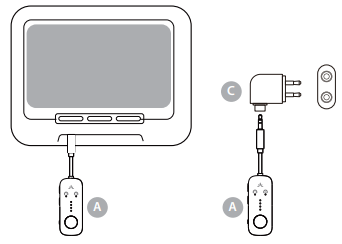 Connecting the Headphones to Transmitter
STEP 1: Switch

the to turn on the Transmitter
STEP 2: Switch the

to turn on the Headphones.
Ensure your headphones are not paired with any other device. Wait for 5 ~ 10 seconds, until the

indicator on the transmitter turns solid blue. They're connected automatically.
If not, you can manually re-connect by pressing the Transmitter's MFB once.