Pairing & Connecting
STEP 1: Ensure that the Transmitter is powered off. (If not, the transmitter and the headphones will connect automatically as they're locked together by default.)
STEP 2: Switch the

to turn on the Headphones. Put your headphones into PAIRING mode by switching the

to "HOLD TO PAIR" and holding for 2 seconds until the LED flashes red & blue.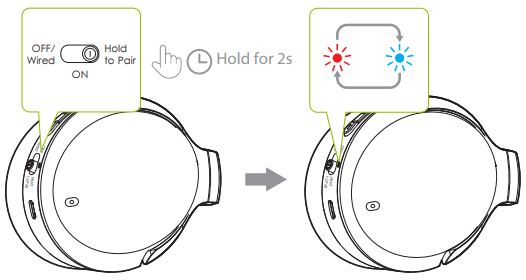 STEP 3: Turn on your device's Bluetooth and select "Avantree Eon" in the Bluetooth menu.
STEP 4: Keep the headphones close to your device and wait for 5-10 seconds or until they connect. Once they're successfully connected, the headphones' LED indicator will flash blue, and you'll hear a "CONNECTED" voice indicator.

For subsequent use, your headphones should automatically reconnect to the last-paired device within a few seconds of being turned on. If not, you can manually activate reconnection by sliding

the switch to "HOLD TO PAIR" once, or by selecting "Avantree Eon" in your device's Bluetooth menu.
Configuring Audio Settings (only for PC)
Access your PC's audio settings and set "Avantree Eon" as the default Input and Output device.
If you're using the headphones with an audio app (Discord, Teams, Zoom, etc.) you may need to repeat this step within these individual apps as well.